It's amazing to have so many neuromodulation options for migraine treatment, but how do you choose which one to use? Which neuromodulation device is best for YOU? 
First, let's recap the available devices on the market:
Single-Pulse Transcranial Magnetic Stimulation | eNeura® (sTMS)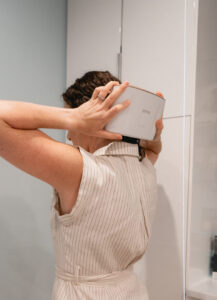 First to the scene in 2013 was eNeura sTMS. It was initially FDA-cleared for the acute treatment of migraine with aura in adults and later approved for prevention. Then, in 2019, approval was expanded to the acute and preventative treatment of migraine in children 12 years of age and older.
Now called the SAVI Dual, this powerful device delivers a fluctuating magnetic field to stop cortical spreading depression (the basis of migraine aura and pain propagation) and prevent a migraine attack from evolving. The device is held over the back of the head and delivers pulses with the click of a button. For prevention, four pulses are given twice a day. For acute pain relief, four sequential pulses are used at the earliest indication of an attack. After a brief pause, if there is no relief, more pulses can be used. Side effects can include lightheadedness, tingling, and ringing in the ears.
Highlights:
* It is the ONLY treatment (including medication) that can stop an aura once it starts.
* You can use as many pulses as you need to achieve relief. There is no limit. So use it as often and as much as you need.
* Has a 'smart diary' to track treatment and a companion online portal for remote physician monitoring.
* Likely safe during pregnancy (disclaimer: always discuss use with your doctor first!). There was a small study in pregnant women showing benefits without any complications.
External Trigeminal Nerve Stimulation | Cefaly®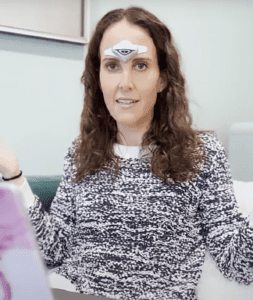 Cefaly was the next device to market, approved for migraine prevention in 2014 and for rescue in 2017. It has shown benefits in both episodic and chronic migraine. It is a supraorbital transcutaneous stimulator (similar to a TENS unit used for other pain conditions) that stimulates and desensitizes the trigeminal nerve over time. Basically, it quiets down the electrical impulses involved with migraine to lessen and prevent pain. Cefaly attaches to an electrode that is applied to the forehead just above the eyebrows via temporary adhesive. 
Cefaly is worn for 20 minutes every day for prevention. For acute treatment, it is worn for one hour. It may be repeated for a second 60-minute session if the pain is not relieved within two hours or if another migraine attack occurs. The most common side effect is irritation at the application site. There can also be fatigue during and after treatment, so it's perfect to use before bed for a good night's sleep! There is a risk that Cefaly can worsen pain if you have cutaneous allodynia (increased skin sensitivity and pain to normal touch). Thus, if it's painful for you to wear glasses, comb your hair or have a ponytail, Cefaly may not be the best choice.
Highlights:
* Targets nerves in the front of the head, so it's a great choice for frontal headache.
* Available without a prescription, so easy to get and relatively affordable.
* One of two devices that has evidence for vestibular migraine as it can help not only pain but dizziness as well.
* Thought to be safe during pregnancy (disclaimer: always discuss use with your doctor first!).
Non-Invasive Vagal Nerve Stimulation | gammaCore™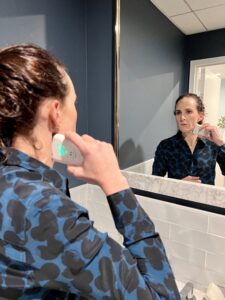 The gammaCore was FDA-cleared in 2017 for the acute treatment of cluster headache and in 2018 for the prevention of cluster headache. Approval for migraine came in 2018 for rescue and in 2020 for prevention. In 2021, approval was expanded to include adolescents aged 12 and up. gammaCore works on the vagus nerve, which is responsible for reporting information to the brain and transmitting instructions back to the body, and plays an important role in regulating pain. 
gammaCore is turned on and positioned on the neck near the vagus nerve with varying intensity and is used in 2-minute intervals. For prevention, two 2-minute stimulations (4 minutes total) are done twice a day. For acute relief, two 2-minute stimulations (4 minutes total) are done at the onset of pain. Treatment can be repeated if pain persists. You are allowed up to 24 stimulations in a day to treat multiple attacks if needed. Side effects can include redness at the application site, facial twitching, and dizziness.
Highlights:
* Only device cleared for Cluster Headache, Hemicrania Continua, and Paroxysmal Hemicrania.
* Since it works on the vagus nerve, it may be effective in treating POTS (Postural Orthostatic Tachycardia Syndrome) and other dysautonomias.
* Currently being studied for post-COVID syndrome, gastroparesis, and many other conditions that are commonly seen in migraine patients.
* Evidence for benefit in vestibular migraine.
* Non-invasive vagal nerve stimulation has also been used in pregnant patients for other indications without any evidence of harm to the fetus. Thus, likely a good option during pregnancy (disclaimer: always discuss use with your doctor first!).
Remote Electrical Neuromodulation | Nerivio™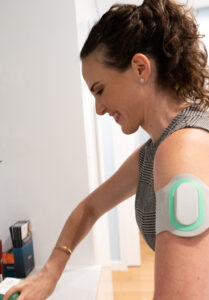 The Nerivio device was FDA-cleared for the acute treatment of episodic migraine in 2019 and for chronic migraine in 2020. In 2021, it was cleared for the acute treatment of episodic and chronic migraine in children 12 and over, making it the third available device for this age group. The Nerivio works via the conditioned pain modulation paradigm to stop a migraine attack once it starts. Simply stated, it sends electrical signals to the brain to inhibit incoming pain.
Nerivio is applied to the upper arm and then controlled by an application on a smartphone. With the application, patients can adjust the stimulation intensity as needed and automatically track usage in the Nerivio migraine diary. The device should be applied within 60 minutes of a migraine headache or aura and left on for the 45-minute treatment cycle. Side effects may include redness at the application site, a sensation of warmth or tingling, and muscle spasms in the arm during use. Though not currently indicated for preventative treatment, studies have shown significant benefits. Thus, expect FDA clearance for migraine prevention any day now.
Highlights:
* Nerivio is discrete and easy to wear under clothes while out and about.
* The only migraine device not to be applied on the head or neck – both tend to become hypersensitive during a migraine attack.
* User-friendly app that helps personalize treatments and track migraine attacks.
External Combined Occipital And Trigeminal Neurostimulation Device | Relivion® MG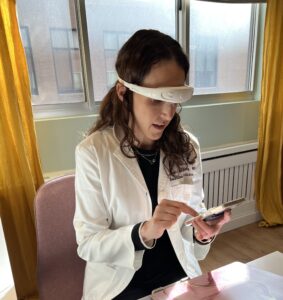 Cleared for acute migraine treatment in 2021, Relivion MG is the first noninvasive, multichannel neuromodulatory device for migraine that simultaneously stimulates the peripheral nerve branches of the occipital and trigeminal nerves (the two main peripheral nerve pathways which are felt to influence migraine). 
With four electrodes in the front and two in the back, the Relivion MG headset wraps around the head to provide neurostimulation. The device is used for 40 minutes at the onset of a migraine attack. Recent studies have also shown a reduction in migraine days when used (off-label) for 20 minutes every day for prevention.
Highlights:
* Targets pain in the back of the head (in the occiput).
* Promising evidence of benefit for depression, anxiety, and insomnia. Thus, using this device may positively impact co-morbid conditions.
* Patient app tracks migraine attacks and treatment and has a physician interface that allows for remote monitoring by your doctor.
Now that we have reviewed each device let's talk price and access.
The most affordable long-term preventative option is Cefaly. It is a one-time cost for the device (which includes settings for both prevention and rescue) and then an ongoing cost to replace the electrodes. Depending on the model you choose, expect to pay between $300 to $400. A 3-pack of electrodes is $25 and should last up to 20 sessions each. Cefaly has a 90-day money-back guarantee, so there is no risk to trying it. And remember, Cefaly is available without a prescription and can be ordered straight from the website. Makes it easy to buy for yourself or as a gift for a loved one. 
For acute treatment, Nerivio is well-priced and may even be covered by some insurance. For starters, the Nerivio Direct Savings Program offers the first device for $10 to anyone with commercial insurance. If insurance doesn't cover the device, the cost is $49. For those without insurance, Costco offers Nerivio at a discounted price of $130 to members. Each device is good for twelve 45-minute treatments, and once those treatments are completed, the device should be disposed of. To get the device, ask your doctor to send a prescription to ProCare pharmacy (Nerivio's specialty pharmacy). ProCare pharmacy will deliver it to your doorstep.
When you look at Relivion pricing, it is actually pretty cost-effective. Relivion offers a 3-month introductory price of $200. After that, it's priced at $75 per month, which includes unlimited treatments, replacement electro-pads (if needed), and an integrated app that connects to your doctor. Relivion needs to be prescribed by a certified provider (like me!) It is then shipped to you directly.
gammaCore is priced at around $200 per month. The starter kit includes a device preloaded with three months (93 days) of consecutive treatment. Refills can then be purchased in three or 12-month intervals. To get gammaCore, your doctor will need to complete a prescription form and send it to the company. You will then be contacted to confirm payment and shipping details.
SAVI Dual from eneura is $350 per month (initial 3-month commitment and then month-to-month thereafter). It may be the priciest of the bunch in terms of upfront cost, but you get a lot for your money. The monthly prescription fee includes unlimited acute treatments, daily preventive treatments, cloud-based smart technology to track treatment history and progress, and one on one support. 
So, is neuromodulation right for YOU?
For 99% of people, the answer is YES. Devices are an excellent preventative option for those with low frequency migraine as a sole therapy, chronic migraine as an add-on to existing therapy, and for everyone in between. They are great for patients who have a poor tolerance to medications or contraindications. And many can even be used in pregnancy (after speaking with your doctor!). Please remember that for devices to work preventatively, they need time to change the way the brain is inappropriately processing pain. Thus, please be sure to use your device preventively for at least three months before deciding if it works for you.
For rescue treatment, devices are great as first-line or as a backup. Say, for example, your triptan doesn't get rid of your pain, and it's too soon to take another one. Cue a device. What if you are using too many rescue medications and have reached your weekly limit? Neuromodulation for the win. Want to give your gepant a bit more oomph? Combine it with Nerivio, Cefaly, gammaCore, sTMS, or Relivion to stop that migraine in its tracks. By having a device in your migraine toolbox, you can be more confident with your treatment plan. And confidence is power!